Why Concrete Lawn Edging Is So Popular?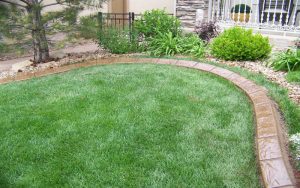 If you pay attention as you make your way through towns and neighborhoods as diverse as Santa Barbara, CA and Denver, CO, you will notice that concrete edging is a very popular element in the landscape. There are many reasons for the rise in popularity of this attractive and effective edging for lawns, walks, and gardens. If you are eager to find out if it will work for you in your Ft. Collins, Colorado Springs, or Denver, CO property, or your San Fernando Valley, Santa Barbara or Ventura, CA area, L & B's Concrete Landscape Borders can help.
As a customer of L & B's Concrete Landscape Borders, you can enjoy a free estimate on the work – and this is true of the smallest projects to the major installations. You can select from various concrete edging styles and enjoy professional installation and clean up that leaves your garden looking great, and in the same healthy condition that it was before the concrete was installed.
Of course, professional installation of your concrete edging and border is not the only reason to turn to L & B's Concrete Landscape Borders for your garden or yard upgrade. There are the benefits that you can enjoy from any residential & commercial concrete landscape borders. These benefits are why concrete edging is so popular and includes issues such as:
The afford-ability of concrete borders – Though the initial installation fees are higher than DIY or low-quality options, over the long term you save substantial amounts that make concrete edgings some of the most cost-effective and affordable imaginable. Don't worry about planting seasonally to create a visual line between the yard and beds and don't forget about the architectural and design benefits that come from custom edgings.
The durability of concrete borders – If you could do a side by side comparison of the many materials used for garden and yard edges and borders, it would be easy to see that concrete is the most long-lasting and durable of them all. Wood and plastics quickly degrade due to weather, sun, and damages by yard gear. Metal edging rusts and is not as permanent as concrete. Even if a chip or crack appears, quick and easy patches remedy the issues.
The flexibility of concrete borders – When you get professional installation you choose from any number of colors, shapes, styles, and designs. Do you need curves and elegant edges? Professional concrete edging is the answer.
L & B's Concrete Landscape Borders provides residential and commercial projects with free estimates, and an amazing range of colors, styles, and even stamps and patterns.