Top Three Unique Venues for Small Weddings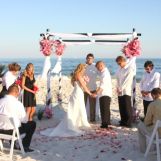 Everybody wants a unique venue for their marriage ceremony that will provide lasting memories, make some great photo opportunities, and suit the couple's taste. With some creative thinking and searching around, you will be surprised at the types of locations that are considered small wedding venues. Here are just a few examples to look into:
1. Theaters
Many theaters and cinemas can be rented out for weddings. The Majestic and Empire theaters in San Antonio, for example, make for a beautiful historical backdrop. The advantages are having staff on hand, a station for catering, comfortable seating for guests, disability access, and the option of playing movie clips to make your reception special. Ask the local theaters and cinemas in your town if they can be hired out for special occasions.
2. Farms
For more rustic small wedding venues, check out local farms, ranches, vineyards, and orchards which can host receptions. There you can enjoy the scenery, have meals prepared using the farm's produce or the vineyard's wine, and offer unique activities such as hay rides. Rural locations are ideal for ceremonies which are more low-key and casual rather than overly formal.
3. Art Gallery
This is one that not many couples consider but which makes for a beautiful and classy location. Depending on the gallery, it can also be remarkably cheap. A Practical Wedding says that a reception at a non-profit gallery can cost as little as $12,000 for the entire event. There may be some restrictions on taking photos around light-sensitive paintings, but otherwise it is worth asking the galleries and museums in your area if they can be hired out. Many also allow for just a small ceremony on their grounds such as the McNay in San Antonio, TX and then reception can be held at restaurant or party room saving couples lots of money.
No matter your taste, party size, or budget, you can always find a unique small wedding venue which will provide you with fond memories of your special day. Look around at what is available in your area options are endless.