Chicago Ornamental Iron Experts Explain How To Care For Your Iron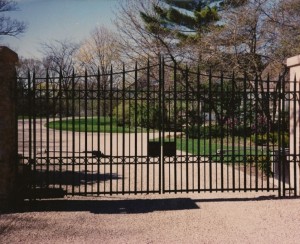 Chicago ornamental iron professionals know that once you have your beautiful fence installed, your next concern will be how to keep it looking newer, longer. While the best way to ensure you know how to care for the fence properly is to ask the supplier, you may forget their answer – or forget to ask altogether. In order to be sure that your fence looks beautiful for as long as possible, there are certain tips you can follow. Here is some valuable information you can use, as Chicago ornamental iron experts explain how to care for your iron.
Try To Prevent Rust Before It Happens
Some fences will rust when exposed to rain, snow, or humidity. To prevent this from happening to your fence, you can apply a thin coat of wax. Alternatively, you can purchase a sealant at any hardware store to ensure your fence stays rust-free longer.
Keep It Clean
Use a solution made up of warm water and dish soap to clean away dirt and film from your fence. Particularly stubborn spots of dirt or rust can be cleaned with a toothbrush, but you can use a cloth for the rest of the fence. Rinse the solution off with water in order to avoid soap stains. Letting your fence air dry in the sun will help avoid streaks from appearing. Avoid using steel wool or other abrasive brushes on your fence, this will damage the iron and promotes rust. It's also advisable to avoid using bleach or other similar chemicals, as they may cause your iron to prematurely corrode.
Inspect It On A Regular Basis
Inspect your fence whenever you are outside doing yard work throughout the summer, and ensure that you keep up the habit in the winter months. You want to ensure that you notice any rust before it gets out of hand, and that dirt and grime are cleaned before it becomes an overwhelming task. You should also inspect your fence for any signs of damage, and call your supplier to have them repair these spots before they post a danger. To know more visit Top Line Fence, Inc.