Basement Remodeling That's Designed to Impress and Boost Value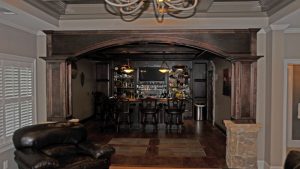 There's something about walking into a finished basement that helps to turn heads and creates that "wow" impression that homeowners love seeing on their guests' faces. A basement is a place that can be transformed in many ways to meet just about any need. When it comes to basement remodeling, homeowners should take the time to work closely with professionals that can offer the look and feel they want.
How to Create an Impressive Basement
To ensure any basement remodeling goes a step above the average, there are several things homeowners can do. First, they need to create a vision for the space. This includes things like an overall color scheme, architectural detailing, and overall space use. Once this basic plan is done, the next step is to focus on creating the details.
Some features can really help a space to stand out. For example, using beams across the ceiling helps to create a stunning statement and can add a touch of class. The use of stone can add a dramatic feel and a traditional look. Property owners should also consider features such as the flooring – color and material – as well as lighting. You don't want the basement to really feel like a basement, but rather an additional living space to the home.
Every project is very different. However, basement remodeling should always accomplish several goals. It should turn the space into a working, functional area that fits the family's needs. It should also enhance the property's value while creating a space that is appealing to their specific tastes. When all of these things come together, property owners can feel confident they've invested well. By working with a trusted and experienced team, this becomes more possible and even likely. And, perhaps most important, the basement becomes impressive.