5 Best Home Defense Handguns for Women
Women have many firearm options to choose from, as there is no one best handgun for home defense. While no company has designed handguns specifically for women, there are still a variety of excellent self-defense handgun options available for purchase.
There are a few specific details women should look for before buying a gun for home defense. First, the gun must be powerful enough to deter the attack of the assailant. If the handgun is not powerful enough, the attacker could continue the assault through the gunfire.
The handgun must also be comfortable in the hands of women. Most women tend to have smaller hands than men, so it is important to find a weapon with the right grip. A proper grip will make the user feel more comfortable with their firearm and incentivize them to practice and maintain the upkeep of the weapon.
The handgun should also be reliable and easy to operate. A handgun that jams or has too many features is never a great option, especially for home defense. This list of five handguns combine these characteristics, and while these are not the only options, they are some of the best.
1. Smith and Wesson M&P Bodyguard
The bodyguard is a lightweight revolver with a Crimson Tracer laser sight. This weapon is the lightest on this list weighing at only 14 ounces.
The laser sight provides an edge to the user since it increases accuracy in darker settings. This handgun also has a comfortable pistol grip that makes the recoil manageable. The easy sight, lightweight, and comfortable grip make it one of the best choices for home defense for women.
2. Glock 43
It is rare to have a list of best handguns that does not include the famous gun line, Glock. The Glock 43 is a recent design that is intended to be compact while maintaining power and reliability.
While its magazine capacity is only six, Glock guns are known for their reliability, so those six shots should be plenty if necessary.
3. Sig Sauer P238
Like the Glock 43, the Sig Sauer P238 is compact, so it can be concealed.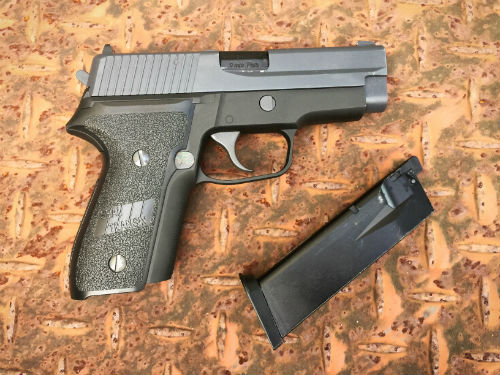 While the Sig Sauer is heavier than most other pistols on this list, that is not necessarily a bad thing. Heavier guns have less recoil, so they are easier to control.
4. The Walther CCP
The Walther CCP is a 9mm handgun that has a magazine capacity of eight rounds. This gun is one of the bigger on this list, making it much harder to conceal, but it has the advantage of being customizable. One customizable area is the rail underneath the barrel. A laser sight or a light can be attached to help with aim and increase visibility.
5. The CZ 75 SP-01
The CZ 75 is the heaviest weapon on this list, but it is also considered the most effective. This 40.5-ounce, all-metal handgun is another 9mm handgun, but it holds 18 rounds.
This handgun will have less recoil than any other pistols on this list because of its heavy weight. The accuracy and reduced recoil of the gun will allow the wielder to shoot not only the first shot accurately but also the next 17.
Final Word
All men and women should practice using many kinds of handguns to find which ones will fit in their hand most comfortably.
Every individual will have a different feel for each weapon, and he/she will have different uses or needs in a handgun. While there is no best handgun for women, there are certainly some which feel more comfortable and are more reliable. After you have purchased what you think is the perfect weapon for you, be sure to practice with it regularly to keep your skills proficient.