The Industrial Heater: Providing Heat Under Difficult Conditions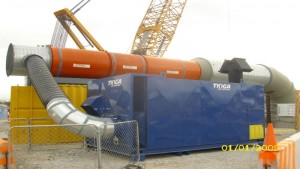 Factories are wide-open spaces. Warehouse can stretch on seemingly interminably. Mines, oilrigs and construction sites can be unpleasant places to work in in the winter months. They all require heating. This is where an industrial heater proves to be an effective tool against keeping the moisture away and the warmth inside.
Industrial Heating: Definition and Applications
At its most simplistic, industrial heating is the implementation of heating units to operate, accelerate or complete their tasks. While it is common to install heaters in buildings, industrial heaters must be prepared to perform in the most difficult and challenging of conditions. Industrial heaters are constructed to operate in various environments – including extreme cold, to provide various industries with the ability to keep their employees comfortable while finishing a project. Industrial heaters can also act to reduce the environmental situations than can slow down the advance of a project e.g. ground frost.
The demand for heat among many industrial concerns is high. Industrial heaters are requested by:
Various factories
Mines
Chemical facilities e.g. refining
Oil rigs
Gas projects
Agricultural operations
Asphalt companies
Construction businesses – An industrial heater can keep employees warm while a ground thaw heater can thaw out the frozen ground to permit work to proceed on a site
These industries require specific heaters – industrial heaters, to ensure they continue to operate under all types of conditions.
Industrial Heaters – Types
The demand for industrial heaters is increasing. The need for controlled heat continues to rise. The change in the environment (climate change) has resulted in an increase in specific regions of the United States. Winter has increased in its ability to shut down construction, excavation and exploration projects. Industrial heaters allow companies and their employees to pursue the work in relative comfort and ease.
Due to the varied nature of these diverse industries, industrial heaters are available in different models or types. They are indirect or direct fired heaters. They may run on a variety of fuels including:
Electricity
Gas
Oil
Propane
The fuel will vary according to the specific requirements and restrictions of an industrial project or concern.
The Industrial Heater: Filling a Real Need for Companies
Changing weather patterns, the need to work in spite of the weather and the requirements to keep employees as comfortable as possible while they work on a project has fueled the demand for industrial heaters. The versatility and flexibility of the different models ensures different industries are able to find a type suitable for their needs. As a result, the challenge for producers is to continue to provide the right industrial heater to meet the customer expectations and requirements.