The Best Care for Loved Ones with Dementia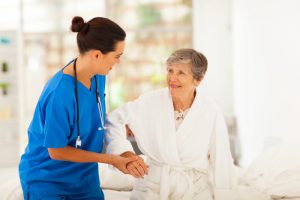 Dementia takes a toll not only on the person who suffers from the memory loss and cognitive deterioration but also their loved ones and caregivers. The best care for people with dementia is care that is evidence-based, delivered by a caring and highly skilled team of professionals like those at the Jersey Shore Adult Day Health Care Center. A condition like dementia can sometimes be misdiagnosed, which is why correct assessments and tests are needed as early as possible. With early interventions, the progression of the condition can be slowed even if it cannot be stopped entirely. Human beings are living longer, healthier lives than ever before, and medicine is working hard to catch up by providing the means by which those longer lives are also as fulfilling psychologically as they are physically. Dementia care includes physical, psychological, and social interventions. The treatments offered at the Jersey Shore Adult Day Health Care Center in Monmouth County, New Jersey range from testing and assessments to occupational and physical therapy. There are dieticians on hand to help clients eat right for their body type and physical condition, activities that stimulate the mind and keep the individual engaged and cognitively fit, and also options for medication interventions.
With a holistic and individualized program of care, the person with dementia can enjoy daily activities in an enjoyable environment. The clients at Jersey Shore Adult Day Health Care Center are cared for by a team of nursing and health care staff, who are trained and familiar with the emerging approaches and treatments of dementia and related conditions. Treatment for dementia needs to be culturally appropriate and suited to the needs of the family. Working with the primary care physician ensures that the client always receives the best possible dementia care, in accordance with best practices and the needs of the individual.