How to Maintain Your Vehicle Floor Mats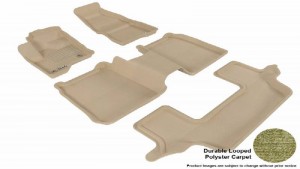 Your floor mats have a tough job to do. They are expected to form a barrier between all the dirt and grime that you bring into your vehicle – and your fresh, clean carpets. They are supposed to accept sugary soda drinks, thick slippery mud, anything your dog leaves behind and your work in the dirtiest of environments. Fortunately, there are a range of floor liners like 3d Maxpider Floor Mats that can protect the floor in your vehicle from all that you throw at it, but how do you look after the mats to ensure they remain in first class condition?
Purchase The Best Floor Mats You Can Afford
Should you purchase cheap universal floor mats from your local one or two-dollar store or with an impulse buy at a gas station after a long highway journey, you have already caused yourself a cleaning problem. These mats do not effectively cover your carpets. Even though they may be listed as the model right for your vehicle, they are unlikely to fit exactly, leaving that spilt coffee with a great opportunity to damage your carpet forever. Any liquids that live a short life on your carpets may be damaging them beyond repair.
The key to purchasing the best floor mats that you can afford is to ensure that all of your carpet or flooring areas are covered completely by your new floor mats. Some of the best floor mats, including 3d Maxpider Floor Mats have a ridge around the outside that forms a barrier from dirt, liquids and moisture reaching your original flooring. The mess you have dragged into your car stays inside your new floor mats until you can remove them and clean them effectively. Purchasing floor mats with a raised ridge that forms a bond to your doorjamb goes a long way to making the cleanup far easier.
Don't Allow Your Floor Mats to Move
These cheap universal floor mats are unlikely to stay in the same position for long because they do not grip your carpet or floor correctly. As soon as you place your feet on the mats, the floor mats move. By purchasing high quality floor mats, you will see they have a cleat system underneath which holds their position in the original carpeting, doesn't allow the mat to move, but doesn't damage the carpeting whatsoever.
The Cleaning System for Your Floor Mats
Whether you have chosen 3d Maxpider Floor Mats or another high quality brand, the floor mats and cargo liners are built for all weather conditions. The cleaning process is quick and easy and should be carried out regularly to make the job remain relaxed over the lifetime of your ownership. Simply, lift the mat carefully from your car, hose them off and wipe them down. You may need to soap and spray some areas that you have allowed to become excessively dirty over a longer period. Repeating the rinse and wipe down satisfies your needs.