Different types of commercial hand dryers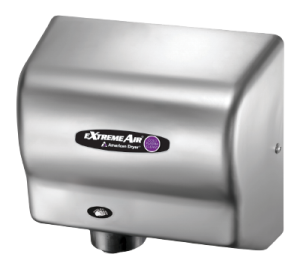 If you own or manage a commercial operation; a store, restaurant, gas station, etc. you will most definitely want to provide your customers with commercial hand dryers. You know that paper towels are not the answer; the dispenser is always running out, and people are forced to use their clothes to dry their hands, not to mention that paper towels create a filthy mess on the floor and around the wastebasket. The best solution is to provide your customers with hand dryers, they get the job done quickly, and there is no unsightly trash left behind.
Different types of commercial hand dryers:
The basic electric hand dryer, one that is tried and true over many years, operates with a simple push button. The customer depresses the button, and the dryer comes on, after enough time to dry hands properly, the unit shuts off. These dryers are inexpensive to buy and install, but they are slower than people like.
High speed:
A high speed and dryer is ideal in a busy facility; it is easier to accommodate more people in the same amount of time. High speed commercial hand dryers are not only fast; they are actually less costly to operate because they use less energy per cycle.
Automatic hand dryer:
The top of the line hand dryer is high speed and fully automatic, there is no need at all to touch the unit which is the concern of some users. The air flow starts when hands are placed under the nozzle, the sensor shuts the air flow off when the person has dried their hands completely. This type of hand dryer is becoming extremely popular because it is better for the user and less expensive to operate. Sensor operated hand dryers are also less likely to be vandalized as there are no exterior moving parts.