Why You Can't Leave Boston without trying a lobster roll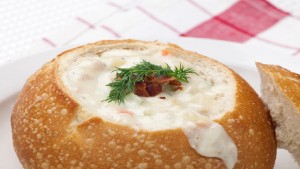 Being in Boston and not having a lobster roll is the equivalent of visiting Tuscany without trying the famous homemade almond biscotti. A lobster roll in Boston is not just a mouthwatering culinary experience – it's a necessity for all visitors, whether this is your first time here or your 100th.
What is a lobster roll?
Simply put, it's lobster on a bun – but don't let the simplicity of that description fool you. This is serious culinary art that has to be tasted in order to appreciate the meshing of flavor. Tender lobster meat, mixed with mayo or hot butter, served on a hot bun that will have your taste buds singing in no time. Wash it down with a cold brew and you've got yourself the perfect meal – what could be better? Seriously, nothing.
While you'll find plenty of offerings of these dishes at almost any restaurant in the city, the Boston and Maine Fish Company, inside Faneuil Hall, is one of the most prominent. Fresh seafood is prepared daily and you'll find plenty of offerings. Whether you want a classic lobster roll, or a hot bowl of chowder, you'll find it here.
Whether you're in town on business, travelling solo, or have your whole family with you, a trip to Faneuil Hall is in order. Leaving the city without having a lobster roll is akin to visiting Paris without seeing the Eiffel Tower. And how sad would that be?
Need more incentive to try one? Health experts say that lobster packs a protein punch, and contains plenty of vitamins and minerals, including copper and selenium. It is also a source of omega-3 fatty acids. A moderate intake of lobster is thought to help reduce the risk of diabetes, obesity, heart disease. So go ahead – have that lobster roll in Boston!