Cosmetic Dentistry in Chicago Involves a Wide Variety of Procedures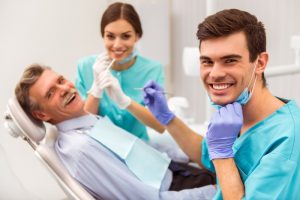 Cosmetic dentistry in Chicago is increasingly popular. It involves several procedures that improve patients' appearances and confidence by giving them the smile that they have always wanted. Here are some of the more common cosmetic dental procedures that patients are treated with.
Whitening
Some people refer to this as bleaching. It can be done either at a dental clinic or at home. You'll want to consult with your dentist first.
Veneers
These are thin shells that might be made from porcelain or composite materials. They're customized for the specific patient, and they're used for teeth that might be a bit crooked, discolored or chipped. They're affixed to the front of teeth with a dental adhesive.
Crowns
Some people call these caps. These are also custom fitted, and they used for teeth with serious decay, broken or chipped teeth and teeth with large fillings. They can even fill gaps between teeth.
Implants
These replace teeth that are missing. A titanium post is implanted into the jawbone where the missing tooth used to be. When the bone heals, a customized tooth is permanently secured to the post.
Shaping
The appearance of a tooth can be reshaped by filing some of its enamel. Reshaping has an immediate effect, and there isn't any pain associated with it.
Bonding
If a tooth is badly stained, chipped or broken, material that is the same color as the affected tooth is bonded to it. A special light is used for the bonding process.
Orthodontics
Even adults are wearing braces to improve the alignment of their teeth. Invisalign clear and removable aligners can be used to improve crooked or crowded teeth.
We're pleased to offer cosmetic dentistry in Chicago to both new and existing patients. If you have questions about how our cosmetic dentist can enhance your smile, feel free to contact us at either of our Art of Modern Dentistry's clinics. You can even make an appointment online by going to ArtofModernDentistry.com.