What's the Difference Between Commercial and Residential Roofing?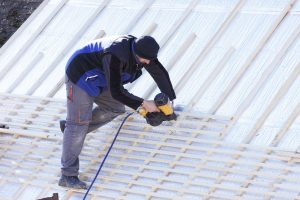 The construction of homes and businesses are quite different. Yes, a business might open in a building which was once used as a home, but those are rare occurrences. In most circumstances, a commercial building's design and the construction materials used tend not to match what's used in a residence.

Take commercial roofing as an example of one of these differences. Whereas a residential roof may seem picturesque or elegant, commercial roofs are usually designed to be practical and useful. This is why contracting companies whose services include commercial roofing in Waukesha, WI are staffed with professionals who have the knowledge and patience to construct a commercial-style roofs.

Here are a few of the main differences between commercial and residential roof designs.

In residential construction, asphalt shingles are the most commonly used material to cover a roof. On the other hand, commercial buildings may be covered with one of several materials, such as sprayed polyurethane foam, modified bitumen, concrete, or basic tar and gravel. In many cases, environment and budget determine the choice of roofing material.

At minimum, a residential roof installation takes a day or two to complete. Commercial roofs can take up to a month to finish. This is due to factors such as the building's square footage, the type of materials used and the weather. Most delays are due to waiting times for certain materials to cure.

Most residences feature classic angled roofs. This design helps maintain comfort inside the home while also siphoning rainwater into gutter systems. A majority of commercial building roofs are flat. Thus, additional time is needed to ensure they are sturdy enough to handle heavy HVAC units and are equipped to remove rain or snowmelt.

No matter if refurbishing or starting from scratch, don't be afraid to ask the difficult questions when you're looking for commercial roofing in Waukesha, WI.
Visit ourYelp profile, for more information.