3 Reasons To Use Cloth Napkins At Your Event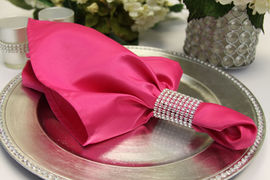 Planning a special event from a wedding to a luncheon or even a business conference lunch or dinner requires a lot of decisions. In most cases, you will also need to stay in budget, which may make it tempting to cut corners and chose the cheapest option when it comes to table linens.
While it may seem like a simple choice to choose disposable paper napkins over cloth napkins, there are three reasons that you need to reconsider your choice. To help explain the problems with the paper options, let's take a closer look at the benefits of the cloth options.
Coordinating Table Linens
The colors and features possible in cloth napkins are simply no comparison to the limited choices you will find in disposable napkins. With fabric, you can choose from lamour, satin, taffeta, polyester, glitzy sequins and even beautiful pintuck napkins with their pattern running through the fabric.
With all the choices the napkins can match the place settings and the tablecloths or provide a splash of color and dazzle. There are even patterns in napkins that are a perfect match for specific themes and décors.
Decorating Potential
Paper napkins, even the most elegant, are not a good match when there is a fancy arrangement on the table. If you want to have the napkins stand up in an ornately tied look or if you wish to use napkin rings or clips, cloth napkins are the only option to consider.
Spill and Accident Management
It is inevitable at any type of lunch or dinner that spills and accidents will happen. Paper napkins are not effective in cleaning up, often leaving guest scrambling to try to collect all the paper napkins in the area to try to address the problem.
With cloth, messes are easy to manage. These are also the only option to consider for any outdoor event as paper simply blows away in the wind, another problem that is often overlooked until it is too late.